Configure IPTables for OpenVPN
Now we need to tell IPTables to NAT the OpenVPN Client traffic and send it out our default ethernet interface which on this system is eth0. We also need to permit our OpenVPN traffic to the VPN server. We will need to open up the port TCP 1194, as we configured this OpenVPN Server to use TCP.
Code:
iptables -A INPUT -m tcp -p tcp --dport 1194 -j ACCEPT
iptables -t nat -A POSTROUTING -s 10.8.0.0/24 -o eth0 -j MASQUERADE
service iptables save
Configure Kernel Networking
In additon to setting up IPTables, we need to tell the linux kernel to forward IP 4 traffic. You can do this by editing the following line in that reads "net.ipv4.ip_forward = 0″ in /etc/sysctl.conf to look like this:
Code:
# Controls IP packet forwarding
net.ipv4.ip_forward =1
To make these setting active you need to update sysctl.
Starting Open VPN
The configuration on the server is complete at this point. All that is left to do is start OpenVPN. Additionally if you want the OpenVPN server to start automatically when your server is rebooted you can set it using chkconfig.
Code:
service openvpn start
chkconfig openvpn on
Configuring the Open VPN Client
Now that your server is all setup, you need to setup the clients computer to connect to the new server. In our case we a MacBook Pro running OSX Mavericks. There is an awesome Mac OpenVPN Client called
Viscosity
that we really enjoy using. They have a free version you can use for 30 days, and to be honest the purchase price for the client is a very reasonable $9 USD.
The client will need the IP address or Fully Qualified Hostname of the VPN Server and the file you emailed them earlier.
Extracting the key and certificate
The client can simply click on the tgz file you emailed them and extract it using OSX's building archive utility. Or you can do it from a command prompt as well. This will extract the three files the client will need when setting up their VPN Connection.
Configuring the Viscosity OpenVPN Client
Next open Viscosity and then click the Viscosity icon in the menu bar and click "Preferences". This will Open up the connection Window.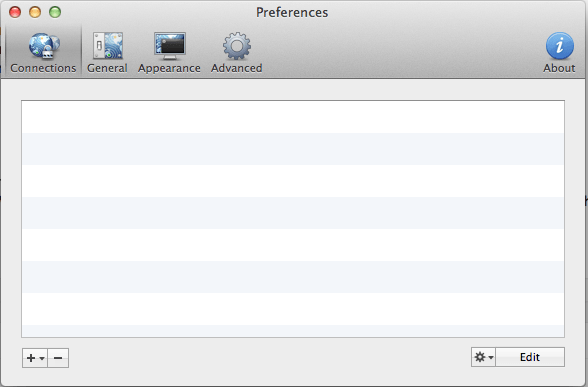 Click the + icon and then click "New Connection". This will open the configuration window where the client can configure the IP Address or Hostname of the Server. Leave everything else on this page as the defaults.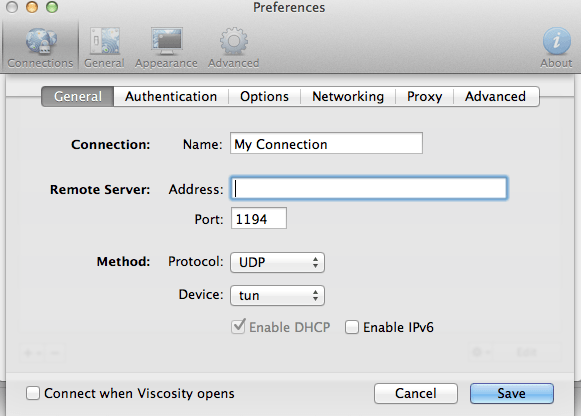 Now Click the Authentication tab, and configure the Server CA, Client Key and Certificate and then click save.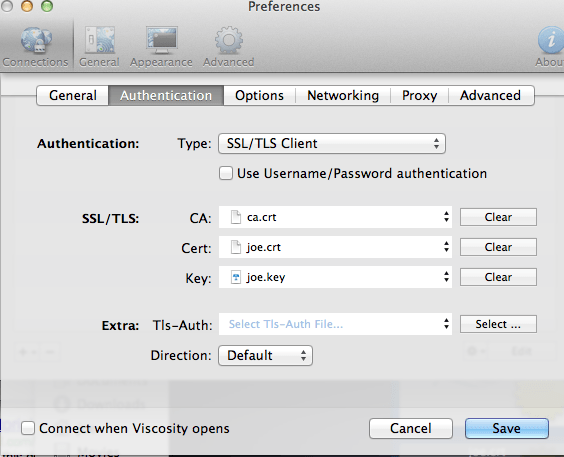 Now Click the Viscosity Icon in the menu bar and you should see an option that says Connect My Connection. Click this to connect to your VPN.
After you are connected, all your traffic is being routed up the tunnel so your source address will look like your servers IP address. To confirm, simply go to google.com and ask what is my IP and it will tell you. You should see your Servers IP address.
Thats all there is to setting up OpenVPN on CentOS 6.